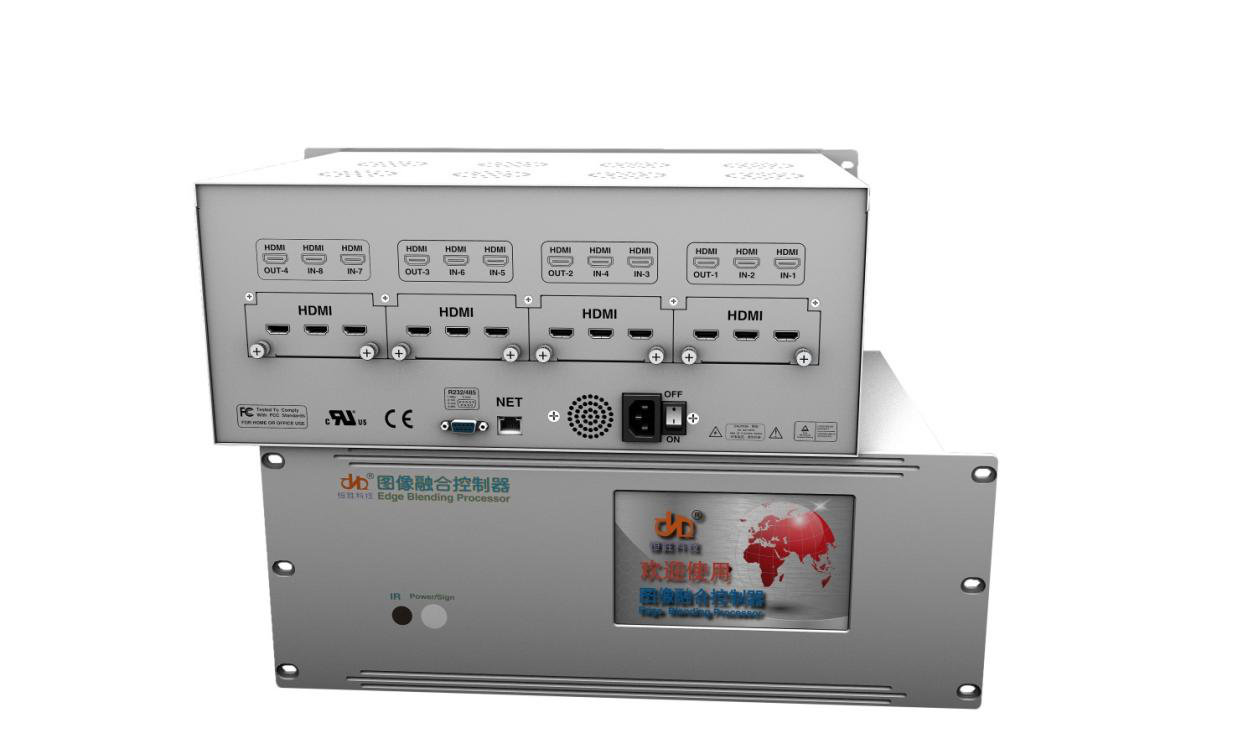 Product Details
★ 1. Pure hardware architecture, no operating system, the boot is very fast and it takes only 3-5 seconds to fully start the image.
★2. The graphical computer control interface makes human-computer interaction more friendly, intuitive and simple, and the interface is flexible and can be changed according to user preferences.
★3. Pull-out board structure, you can replace the board without disassembling the boot, which is convenient for maintenance.
★4. Every board support 2 channels of HDMI input and 1 channels of HDMI output.
★5. Per chassis maximum support 8 channels of HDMI input and 4 channels of HDMI output.
★6.Support multiple chassis cascading to meet the needs of more input and output channels.
★7. Each board is processed independently, non-jamming, no matter how many pictures, it can keep smooth playback.
★8. It can quickly identify the type resolution of the input image signal, and support multiple resolution input.
★9. The input supports Full HD above 1080P, and the output supports above 1080P.
★10. Using Nvidia and AMD graphics cards with a huge horizontal desktop function, and multiple outputs form a large resolution. These signals can be seamlessly spliced through the edge blending processor to achieve very high resolution from the surface.
★11. Apply advanced digital image processing algorithms to intercept and display the amplified signal in real time, support multi-screen display, and zoom in, zoom out and drag the window at will.
★12. Built-in HDMI matrix, the signal source does not need additional matrix, pure digital processing, the image is more realistic.
Specification:
| | |
| --- | --- |
| Processor | Many nuclear high speed graphics chips work together |
| Equivalent bus width | 256GBPS |
| Equivalent advanced cache | 4M |
| Equivalent processing speed | 66.56GMIPS |
| Memory | Single input 128 M |
| Input interface | HDMI |
| SYNC mode | Pixel clock |
| PIXCLK | 25MHz-330MHZ |
| Input channel resolution | 640×480、800×600、1024×768、1366×768、1280×1024、1920×1080P、3840×1080 and so on |
| Color depth | 24bit/pixel |
| Zoom&display | Magnification:0.3—10 |
| Identification Method | Auto |
| Output interface | HDMI |
| Output format | Pixel clock |
| output channel resolution | 640×480、800×600、1024×768、1366×768、1280×1024、1920×1080 and so on |
| Output refresh rate | 60-120Hz |
| Color depth | 24bit/pixel |
| Control port | RS232C |
| Input voltage | AC100V-240V,auto |
| Line Frequency | 50-60Hz |
| Power consumption | <300W |
| Power source | 300w |
| Temperature | -10℃~50℃ |
| Humidity | 5~90% without condensation |